After a few weeks of no UFC and postponed boxing bouts, this weekend will hopefully be very different. UFC Fight Night is back, and there are so many boxing bouts worth keeping an eye on that it will be difficult to get any sleep. Before that, there is an exciting Combate Global headliner tonight which true fight fans won't want to miss. 
UFC FIGHT NIGHT
The Mexican striker Alexa Grasso comes out of three wins as she prepares to fight Viviane Araujo. Araujo wn in her most recent fight but lost against Kaitlyn Chookagian last year. Grasso is the favourite heading into the fight and recently spoke to the UFC about her career. Speaking of how she feels she has matured and found a mental coach to help her prepare, she says: "If you believe it, you can do it. Sometimes it's your body that says, 'I'm tired,' but if your mind is strong, you can continue. It's great to have a mental coach who can help me with that."
Also on the card is Cub Swanson who faces the favourite Jonathan Martinez in a bantamweight bout. Cub is a veteran with a 28-12 record, while Martinez steps in with a record of 16-4. I think this promises to be a real brawl. 
COMBATE GLOBAL 
Those who follow Combate Global will remember when Moses Diaz defeated Carlos Cordoba Fonseca in just six seconds back in June. This makes it the fastest KO in Combate Global. All of his fights to date are wins by stoppage, hence fans haven't had the pleasure of seeing him in the cage for long: only one of his fights has gone to the second round. 
This week, however, he faces a formidable challenge. He is stepping up from 145lbs to 150 for a catchweight bout with Juan Porto who recently won by rear-naked choke. Combate describes the bout as follows: "Diaz banks on his right hand. He is quick on his feet and has fast hands but get to close and he has power to knockout any opponent. Porto counts on kickboxing background. He is counter puncher so playing the distance will be key for him to earn a victory to prohibit Diaz from throwing the right hand. Porto could explore the ground where he has had much success submitting several opponents."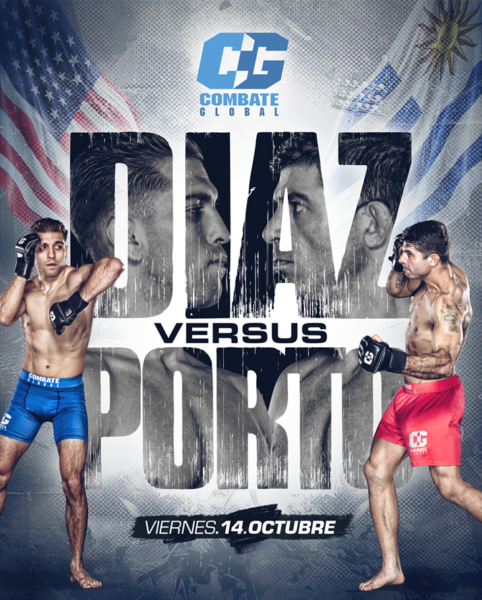 SHIELDS VS MARSHALL 
It's been a long road to travel to get here. 10 years in the making, after their first encounter at an amateur level when Savannah Marshall defeated Claressa Shields, they meet again in a professional bout. The talk has been heated and their legacy is on the line. Both are 12-0 in their professional record. Debates seem to circle around whether Shields has knockout power, which she vows she has. It remains to be seen, but after having been postponed due to the death of Queen Elisabeth II, it is time for this all-female card to take place. Our full interview with Claressa Shields is available here. Also on the card is Meyer vs Baumgardner. Meyer is the reigning champion with a record of 17-0 but Baumgardner recently humiliated Terri Harper who later went on to reclaim a title by defeating Hannah Rankin. Women's boxing is serving some superb fights, let's hope this weekend is no different.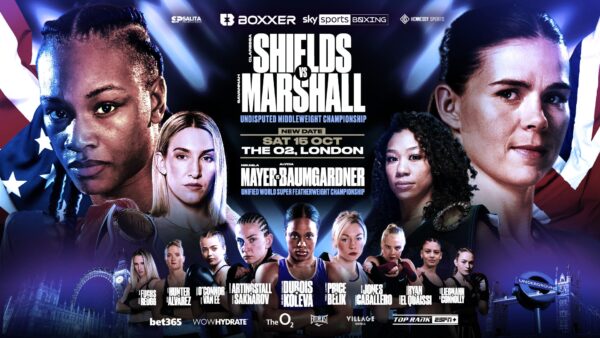 WILDER VS HELENIUS
After three losses against Tyson Fury, Deontay Wilder decided it was time to hang up the gloves and retire. He has since U-turned and called out virtually every heavyweight on the planet. He faces a stoic Nordic in Robert Helenius with a record of 31-3. Wilder has one of the hardest punches in boxing history, but he is up against some proper Finnish sisu. I wouldn't be surprised if the Northerner retires the Bronze Bomber who has found a new career in music. To do that, he must avoid the famed right cross. 
PARO VS JARVIS 
Liam Paro faces the challenge of Brock Jarvis on Saturday South Bank Piazza in South Brisbane. The fight will be contested over 10 rounds in the Super Lightweight division, limiting the weight at 140lbs. Liam Paro steps into the ring with an unblemished record of 22 wins, 0 losses and 0 draws, 13 of those wins coming by the way of KO. Brock Jarvis will make his way to the ring with an equally perfect record of 20 wins and 0 draws, with 18 of those by knockout. Stats suggest Jarvis has a massive power advantage over Paro, with a 90% knock-out percentage looming over Paro's 59%.
HANEY VS KAMBOSOS JR
Finally, Sunday sees the rematch between Devin Hanes and George Kambosos Jr. The Australian lost his titles to the American contender who now holds the belts. Kambosos Jr is hungry for the rematch and promises he has made the necessary changes. The new champ seems unfazed, unimpressed, and ready for a fight. He knew he would be called back to Australia to defend his titles if he won, and he is living up to that promise. It will be fascinating to see if Kambosos Jr can crack Haney's code and regain his title. Chances are that he won't and Haney leaves with the belts around his waist again. I'm also interested to see if their fathers get into a fight which seemed very likely at the last press conference. 
Lyssna på det senaste avsnittet av Fighterpodden!