Chance encounters and unexpected events change lives. Big Joe Egan, 7-time Irish boxing title holder, former sparring partner to Mike Tyson and opponent of Lennox Lewis, speaks to our editor after one such fateful meeting. 
You never know where life is going to take you. In the most unexpected moments, a new friendship can arise, or a work opportunity may present itself. Visting my old local pub in Belgravia, where the publican and I have shared many stories about the ring, I stumbled into an interview with a boxing legend. Entering the men's room after a round of pints, a gentleman turned to me and said "you're smartly dressed – what do you do?" I explained that I write about boxing, as another man entered and heard my reply. "You ever heard of Big Joe Egan? He's a mate of mine." I admitted the name rang a bell but I couldn't quite place it. "I'll ring him now!" A few seconds later I'm on the phone with the man Mike Tyson called "the toughest white man on the planet." 
A few days later we set up a longer call to chat about boxing and Big Joe's career. He has just finished making a film about the 18-19th century bare-knuckle boxer and Champion of All England: Jem Belcher. The film comes out in late July and stars Russell Crowe and several professional boxers. One of them is Big Joe, whose own pugilist story begins in childhood. Born to Irish parents who migrated to England for work, Joe found that his Irish accent landed him in fights. With four older sisters he sought to protect, he ended up getting into trouble with bullies. On the day of his First Holy Communion (the first time a Catholic child receives what Catholics believe to be the Body and Blood of Christ), Joe had his front teeth knocked out. After that, he picked up the English accent. But when he returned to Dublin, it was his English tones that riled the bullies. It was a hard time growing up, but Big Joe learnt how to absorb any beating – and, more importantly, how to fight back. 
BOXING CAREER
It was Joe's father who told him to try boxing to learn to defend himself. He speaks humbly about his beginnings. "I did OK in it. I won 7 Irish boxing titles." It gave him the requisite confidence and ability to face up to bullies. But courage is not something he was taught, for, he believes, courage is something you are born with. If you have courage, you can learn how to fight. He enjoyed boxing, from early on, with over 100 amateur fights under his belt, 80 of which he won. Boxing took him all around the world, including to New York where he won the Golden Gloves tournament, and to Canada where he boxed against legendary heavyweight Lennox Lewis, losing only by points. He enjoyed the career, but most of all he enjoyed learning how to fight his corner. "Nobody likes a bully, and I have experienced bullying in a horrible way. When I got the opportunity to represent Ireland, it was probably the best feeling – to represent your country." 
After a successful time as an amateur, Big Joe went professional for a short period. He never intended to – another of life's unexpected turns – and claims to be able to hold his own for three rounds. But like many peers, he enjoyed the sparring but shunned the running. For three rounds, he could go against anyone. Going the distance for several rounds, however, is a whole different kettle of fish. With a laugh, Joe adds: "If you're going to box 6, 8, 10 rounds, you have to run 6, 8, 10 miles. It isn't something I enjoyed doing!" His first pro-boxing fight was a victory, fighting in the Ulster Hall. His second fight in Belfast, fighting on the undercard of an Irish champion defending his heavyweight title, was for Joe a great honour. "The great thing about boxing is that it teaches you self-respect and respect for your opponent. And that is a very important thing in life: self-respect and respect for others." Although his pro-career didn't take off as he had wished, he gave a good account for himself. He showed courage and a great chin. That's when he was introduced to Mike Tyson. 
MEETING MIKE TYSON  
A seventeen-year-old boy enters a gym. He sees a smaller, 6-months younger boxer, with a lisp. Easy, he thought. What he didn't realise, though, was that this boy was knocking people out left-right-and-centre. Coming out of Ireland, Joe had no idea who this kid was, but he soon realised his new sparring partner had a keen interest in Irish boxing history. They hit it off immediately and became friends. Watching fight footage in his room, talking about boxing history, and having a genuinely good time with a new friend, Big Joe started feeling sorry for the kid:
"He's such a nice guy, I thought, and tomorrow I'd have to give him a proper beating. We went jogging the next morning and I jogged with him for about a mile. Then he took off like a gazelle. After the run, we rested for a while, got ourselves ready to go to the gym to spar, and suddenly all these big powerful men appeared. They looked very sombre, and I thought 'are these men going to box each other?' What I didn't realise was that these sombre-looking men were Mike's sparring partners. They knew what awaited them. They knew the beating that was going to be distilled on them soon after. I didn't know. Stupid paddy over here wasn't aware! I was so relaxed, I felt comfortable, used to fighting older and bigger men as I was, and here I was facing a younger boy. But when Cus D'Amato said 'all right, glove up!' He pointed to one of the men, entering the ring with a seventeen-year-old with his shirt off, pacing around, with an incredible physique. He was a different animal inside the ring than he was outside. One of the men stepped in and was knocked sparks out! I ruined a good pair of underpants at that moment, I'm not ashamed to say!"
Two other men got in, and they too were knocked out. Then came Joe's turn. He held his own for three good minutes, but he took a beating, he admits. They did two rounds that day, and Big Joe is proud to have been with Mike for nearly two years as a sparring partner. 
If you're going to get battered, you might as well get battered by the best!
"He never put me down. He hurt me many times. He tried to put me down, but he didn't. With the psychological warfare of boxing, I had the mindset that if Tyson can't put me down, no fighter can put me down. I did get put down in my career, but there was a madness in my head. It was an honour to share the ring with Tyson and Lennox Lewis. If you're going to get battered, you might as well get battered by the best!" 
The friendship that grew out of boxing is an honest one. Tyson has visited Big Joe's family in Ireland, and was received very warmly by them, which surprised the Irish boxer: "I was being beaten to a pulp by this guy and my mother (she didn't know that though) was thanking him for looking after me!" Cus D'Amato, the legendary boxing coach, is also somebody Big Joe directs much gratitude to. He helped shape his life, gave him plenty of good advice and instilled discipline inside the ring as well as outside. He was also a father figure to Tyson. 
AFTER BOXING
When Big Joe's boxing career ended, things turned south. He was involved in a car accident and his life "spiralled out of control." He didn't know what to do with his life, having been focused solely on boxing for years. Suddenly it was over. He ended up getting into the pub trade, despite being an Irishman who doesn't drink alcohol. "'What sort of an Irishman are you!' People say. My father says I'm a failure as an Irishman", he adds jokingly. Boxing never made him a fortune, but it has given him a good life. While in the pub trade, Big Joe ran a pub in Dublin and later in Birmingham, making a success of it. Then the racketeers tried to cash in on the success, resulting in a dispute and Big Joe getting shot. "The boxing ring was a safe place for me. It was only one man hitting me, even if it was Mike Tyson and Lennox Lewis. It was one man, and you had a referee to ensure fair play was done, there were doctors at ringside, and you had a break in-between rounds. In life, you don't have that luxury if you are being attacked. The boxing ring was a safe haven for me. My hardships have been outside." Big Joe's story is recounted in richer detail in his forthcoming book "Big Joe Egan: The Toughest White Man on the Planet."
But it has hardly been all bad outside of the ring. Big Joe has also had success as an actor. He featured in Guy Ritchie's Sherlock Holmes and plays a role in the forthcoming Prizefighter: The Life of Jem Belcher, which tells the true story of a boxer in the time before the Queensbury rules, mentioned Pierce Egan's classical history of boxing: Boxiana. The film includes boxers such as Ray Winstone, and is directed by the son of British Heavyweight Champion David 'bomber' Pearce, while Academy Award winner Russell Crowe plays the role of the boxer Jack Slack. A very physical film, with ex-professional fighters, full of captivating fight scenes, will surely do well when it comes out on August 11th. Big Joe plays a boxing promoter, "The Don King of the era." He continues: "boxing is a hot topic. Love or hate the sport, we admire fighters. The admiration for warriors is second to none. You will respect the fighter, love or hate the sport." Many fight films over-egg the pudding with exaggerated violence, but this film promises to be more accurate with a true story and actual fighters as guarantees. I am told there are many injured stuntmen to vouch for it.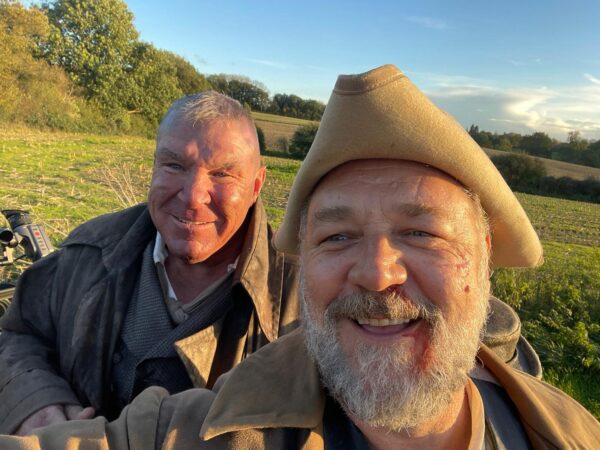 WHAT IT TAKES
Big Joe has also dedicated much time to furthering mental health initiatives. As a part of this work, he features in a forthcoming Netflix documentary called Ten Count alongside Dwayne Johnson, Frank Bruno and others. He speaks about the 10-second count-down in boxing which doesn't exist in life. "You cannot beat Father Time. You can live a good life, but eventually, you realise you don't have the same reflexes, the same stamina, and you bow out of a lot of sports. It can be difficult to accept that it's over, so a lot of supreme athletes suffer from mental issues. Sports have been their lives. So they take their lives or don't know what to do with their lives. Leon MacKenzie is a perfect example: he was a former professional footballer, and when he stopped he didn't quite know what to do. He had the money and the fame but lacked fulfilment. He turned to boxing and won an English title. He turned his entire life around through boxing!" 
Boxing is a hot topic. Love or hate the sport, we admire fighters. The admiration for warriors is second to none. You will respect the fighter, love or hate the sport.
Courage, Big Joe reiterates, is something one is born with. "You can teach skill, but you cannot teach courage. There are two ways of spelling the word 'fear': the coward spells it 'forget everything and run.' The fighter spells it 'face everything and rise.' That is the mindset of a fighter. If you come into that boxing ring to fight, you have nothing to fear. The mindset of a fighter is always the same." Life throws you in different directions, which can be painful, as Joe's story illustrates. Yet some chance moments, can forge or just gently nudge the direction of our lives, like a casual conversation in the bathroom of your favourite pub. 
Prizefighter: The Life of Jem Belcher is out on August 11th and streams on Amazon Prime Video from July 22nd.
Big Joe Egan. The Toughest White Man on the Planet(Gadfly Press: 2022)is available for purchase on Amazon.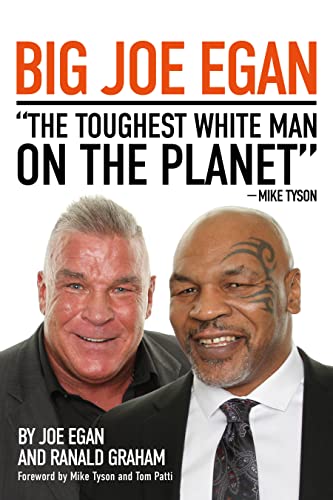 Lyssna på det senaste avsnittet av Fighterpodden!