A mixed night for Nordic fighters, UFC London delivered a thrilling event with local fans celebrating their national athletes despite the sad ending with Tom Aspinall being injured. Two fighters training at the Swedish gym Allstars walked away from the octagon victoriously, and rumours of a card in Sweden may not be entirely untrue. Here is the breakdown of the event. Results disclosed.  
The night started well. Nicolas Dalby, fighting out of Rumble Sports gym in Denmark, defeated Cláudio Silva in the first fight of the evening by unanimous decision. The arena was as of yet quite empty but full of anticipation of what was to come, especially concerning home-grown talents such as Paddy "The Baddy" Pimblett and Molly McCann. I arrived just in time for the first round, walking across to the arena from the tube and speaking to German fans who had come to London for the event. The second fight of the evening featured the German Mandy Böhm, whom the fans had come to support. She lost against Victoria Leonardo by decision, with Leonardo speaking to the media after the fight and stating she had expected more from the German opponent. Ultimately, she believed she had stronger grappling, especially against the cage, which landed her the win. 
During Leonardo vs Böhm, I sat in the stands and spoke to Finnish fans who had come to the event after following the UFC for many years. As fellow Nordics, they sat in Stoic composure while the arena became increasingly febrile. Later in the evening, when the entire arena would celebrate Paddy's win with beer flying in every direction and chants filling the air, I looked back at my Nordic neighbours whom I had spoken to in a rare moment of Scandinavian gregariousness, and they were still sitting in silence, not a word spoken between them. 
Finland had Makwan Amirkhani, one of its own fighters, represented in the under-card. He took on Jonathan Pearce from the USA, and although "Mr Finland" has a proven track record of wrestling success he wasn't able to pull it off this time, losing by KO/TKO in the second round. By the end of the fight, I was back in the media room where Pearce showed up shortly afterwards, claiming he wasn't impressed with Makwan, and that he, too, expected more from his opponent. Yet, Pearce bowed to Makwan after the fight, telling the media "it's a gentleman's sport."
A surprise appearance in the media room came with Michael Chandler showing up to answer questions. Much like his compatriot Pearce, Chandler spoke about the respect necessary in the hurt business. Being asked about his callout of Conor McGregor, he said the callout is respectful. He wants Conor at his best and believes that the sport we all love is at its best with Conor in it. With Dustin Poirier, however, there seems to be more bad blood, but mostly on the side of Dustin, he said with a laugh. They are two fighters in a stacked division without a fight – it's the fight to make. 
Back in the arena, local UK fighters in Jai Herbert (fighting out of the same gym as Leon Edwards who graced the event with his presence as he prepares to fight Usman for the Welterweight title later this year), Muhammed Mokaev, and Nathaniel Wood all had success, with the three of them taking home a win by decision. The penultimate fighter on the undercard was Englishman Marc Diakiese who faced Damir Hadzovic, fighting out of Denmark. Diakiese took the win by decision, and coming into the media room I asked the Allstar Gym fighter what he thinks of training in Sweden. "It's cold!" He says with a hearty laugh, adding "It's nice out there, I've been there for a while. I'm always welcomed there. Everybody helps each other, everybody keeps pushing. It makes me improve. I love Sweden."
MAIN CARD
The main card opened with another fighter training out of All Stars: Volkan Oezdemir. He faced the Highland hope Paul Craig in what turned out to be a rather underwhelming fight with Craig spending most of the time on his back, looking to utilise his grappling, but was forced to his feet. A clear decision win in favour of Oezdemir. Next up was the first of the night's superstars as Molly McCann made the ring walk to face Hannah Goldy. Molly had a spectacular spinning elbow win in the last UFC London event, and few would've thought she might replicate it this time. Yet, she spun around, landed the elbow, and kept connecting to make it a first-round KO win. The crowd went electric and thinned out in time for "The Mauler's" return to the octagon.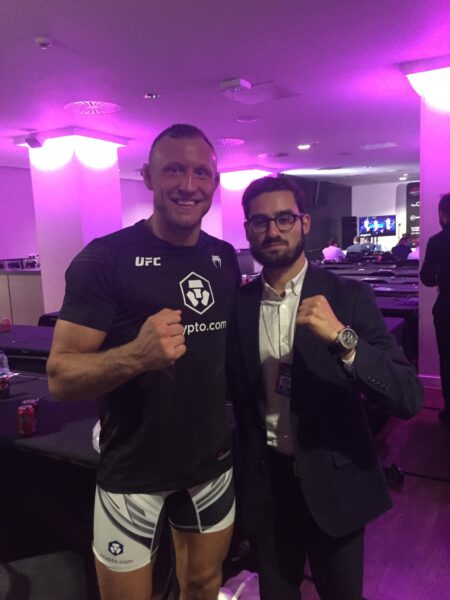 Fighters all have their time, and many would say "The Mauler's" best days are behind him. Sweden still believes in him, and speaking to many people in attendance it seemed overwhelmingly many believe he won against Jon Jones in their first fight which has made it to the Hall of Fame. Sweden might not have a champ, but we have our Hall of Famer. Sadly, that statement often brings to mind past laurels rather than heralding current or future success. In the first round against Kryolov, Gus was TKO'd. The respect for the Swede was huge, and the majority of those in the arena were clearly supporting him in the fight. Nevertheless, the times have changed and new fighters have arisen, while The Mauler remains a veteran and legend of the sport. Will he continue to fight? His skill is still there, and so is his determination. Some people have wrongly criticised his gym, All Stars, for his lack of success. Last night is a testament to the strength and success of the gym, with international fighters coming to Sweden to train. His days may just be behind him. No shame in that. But all it will take is for him to have one more win for public opinion to change. Speaking to two ladies in the stands after the fight who seemed particularly enthusiastic in their support of the legend, it still seems some believe in him. Only at the end of our very brief chat did I realise I had spoken to his wife. 
The next fight was not the main event but might just as well have been given the atmosphere in the arena as Paddy "The Baddy" made his entrance. Dancing, jumping, generally making himself silly, Paddy riled up the arena who had booed his opponent Jordan Leavitt when he entered a few moments earlier. The first round was underwhelming, with a lot of clinching by the cage. A body slam from Leavitt. Not much, but the round goes to Paddy. The second round gets increasingly more exciting by the second as The Baddy attempts to submit Leavitt several times. "He's got him!" I hear from all corners. But not yet. The Baddy gets Leavitt in a rear naked choke. "It's over!" Someone shouts over my shoulder. Still not yet. Leavitt has an arm in between and keeps defending himself. It's not over, but soon Paddy slips his arm through, gets the neck, and I had to let out a smile and say it out loud. He's got him. 
Once again, the levels of enthusiasm in the arena had gone up and now bevelled back down again. Jack Hermansson, the talented Swede fighting out of Norway, came out to meet Chris Curtis after Darren Till was forced to pull out due to injury. A difficult adjustment just weeks away, but a well-deserved match for Curtis. The fight was slow, but Jack landed some great kicks, the punches rained occasionally but on the whole, the fight could've had a faster pace. Both fighters agreed on this immediately after the fight, despite seemingly agreeing about little else as they shouted at each other. Jack lamented his behaviour and so has Curtis on social media. Jack still wants Till, or Whittaker or Paolo Costa. He deserves a big name next. Perhaps on a Swedish card? Rumours have indeed circulated about a Swedish card in November. I wasn't able to confirm this from any official position, other than one person in a position to know said it might be sooner than we think. Let's hope we see Jack home in Sweden soon. Asking him when he plans to return home to Sweden, he also claimed it would be soon, training Muay Thai in his brother's gym in Uddevalla. 
The event ended not with a bang but with a whimper, as Tom Aspinall fell to the canvas having injured his knee when throwing a kick. This gave Curtis Blaydes the victory, as he now looks to fight a higher-ranked fighter. Stipe is still without a fight, but most likely it will be someone from the Gane vs Tuivasa fight in Paris later this year. As for Tom Aspinall, wishing him a fast recovery, he has a lot of hype to live up to, hype which Blaydes believes is undeserved. He isn't as fast as many believe, Blaydes stated in the post-fight press conference, and nor is he as big as many claims.   
In conclusion, a fun event came to an abrupt and unfortunate end, with ups and downs for us Nordics throughout the evening. We Northerners have a lot to be proud of at last night's event with Dalby and Hermansson's victories. There is also much to lament. Looking forward, hopefully, Jack takes on bigger names soon and eventually gets a shot at the title. But as I walked home from the auspicious arena, I ran into fellow journalists who were speaking to local fans. It was clear that this evening belonged to the British fighters, and more particularly, the Scousers. With a recent push to promote MMA in Europe, we see exciting things ahead. UFC comes to Paris in September, and PFL has announced a European league. Let's hope we see more events in Northern Europe soon, and perhaps we can even convince the stubborn Norwegians to legalise MMA. 
Lyssna på det senaste avsnittet av Fighterpodden!