This weekend will see a triptych of UAE Warriors events – 35, 36, and 37 – all set in Abu Dhabi. Three Swedes will be competing during the weekend events. We spoke to one of them, Josefine Knutsson, ahead of her bout. 
Three events will span three days, with all of them taking place at the Etihad Arena on Yas Island in Abu Dhabi. They will all be available live on UFC Fight Pass. The "UAE Africa" series of events are for fighters with an African heritage while the Arabia series are for fighters with Arabic heritage. The regular series – of which UAE Warriors 36 is a part – is the international series for fighters from all over the world. This weekends three events are:
UAE Warriors 35: Africa – Friday, Feb 24th
UAE Warriors 36 – Sat, Feb 25th
UAE Warriors 37: Arabia – Sun, Feb 26th
JOSEFINE KNUTSSON
Josefine began her journey into martial arts at around the age of 13-14, purely out of self-defence she explains, but soon discovered a passion for the sports associated with self-defence. Karate became the main attraction, which then moved into Thai boxing, and eventually, she joined All Star Gym.
She has prepared immaculately for a night which on the cards seems perfectly even. Two strikers with a tied record of 4-0 go head-to-head in Abu Dhabi at UAE 36 on Saturday in a strawweight bout. Josefine has practised her grappling with world-class athletes who have come to Stockholm for training. "We have athletes coming from all over to our gym, which is great. We have been sparring in different clubs in Stockholm as well, so that's been the main part of the training camp. We've trained in many places but above all, we've had great athletes coming to us."
I have fought in huge arenas and I can only speak for myself. I will beat her.
All Star Gym have a new gym in Solna, Stockholm, moving into a bigger space than their previous and – to many who have been there – classic clubhouse. She knows she is up against a skilled competitor but thinks she has the experience and knowledge necessary to get the job done. Both come from K1 and Thai boxing and Josefine does not underestimate Jacinta Austin's striking. She is a worthy opponent, but Josefine is confident. "I have fought in huge arenas and I can only speak for myself. I will beat her." 
Following Sadibou Sy's recent victory in PFL there seems to have been an increased interest in other promotions alongside the UFC. Josefine competes in UAE Warriors, so we ask what it's like to be associated with this particular organisation. "They are so professional and the future for UAE is very bright. They take care of their fighters. It is always exciting to see what it's like and I will be at the arena for Friday's event too. I think the interest for the UAE will grow immensely." 
Two other Swedes are competing this weekend. Josefine knows Jonny Touma well as they train in the same gym. She has seen them in the past few days and thinks they look very calm and prepared. Will we see a hat trick in Swedish wins? Josefine certainly thinks so.
So how will her fight go? "I am a striker, that's my strongest tool, but anything can happen. This is MMA, so I won't tie myself down to any single game plan. I will take any chance I get to finish her off."  
SWEDISH FIGHTERS 
UAE Warriors 36 – Sat, Feb 25th
Strawweight Josefine Knutsson (4-0, Sweden) vs.  Jacinta Austin (4-0, Australia)
UAE Warriors 37: Arabia – Sun, Feb 26th
Jonny Touma (5-1, Sweden/Algerian heritage) challenges Nawras Abzakh (9-4) for the UAE Warriors Arabia Flyweight Title in the co-main event.
194 lbs Catchweight: Khaled Laallam (1-0, Sweden/Algerian heritage) vs. Karar Rahim Ali (3-1)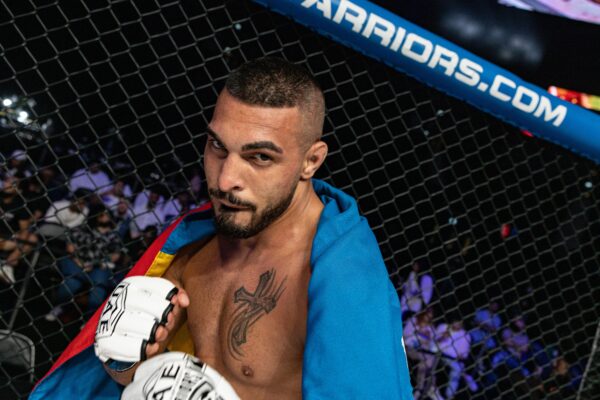 Image: Johnny Touma
Lyssna på det senaste avsnittet av Fighterpodden!