Today is a true treat for fight fans – especially British fans – as it marks the return of bare-knuckle prize fighting to London, while Anthony Joshua takes on Alexander Usyk in a highly anticipated rematch. As if that wasn't enough, the Professional Fighters League (PFL) makes its UK debut in London and Leon "Rocky" Edwards battles for the UFC Welterweight title as he takes on Kamaru Usman for a second time. Take your seats, prepare the screens, and enjoy the show. 
As I write this I have just boarded the train to London as I make my way to a city ripe for a pugilist explosion. With so many exhilarating events on offer, it is hard for a combat sports writer to choose which event to attend. In the end, it came down to timing. PFL's UK debut promises to be a spectacular event, especially given the recent news of a European League being promised by the organisation, launching next year. The actual UK debut took place last week in Cardiff, where the Swedish Welterweight, Sadibou Sy, clinched a spot in the PFL finals. The London event is expected to be bigger, as the organisation's superstar – Kayla Harrison – tops the card. She faces Martina Jindrova from the Czech Republic, both entering the SmartCage with a 2022 PFL  Season Record of 2-0. Harrison is hitherto undefeated in her MMA career, which she embarked on following her successful Judo career, decorated with two Olympic golds. The first was won in London, and now she returns to make a statement in the Home of the Big Ben. 
PFL PLAYOFFS
Harrison is undefeated in the PFL and has been vocal about wanting to fight Amanda Nunes from the UFC and Cris Cyborg from Bellator. As of yet, no such cross-over fights have taken place. Sceptical fans say she hasn't been tested against the best athletes in the world, but her career has been no walk in the park either. Jindrova will be a good test, albeit not a Nunes or a Cyborg. We all await such a match-up, as any talk of being the female Lightweight "GOAT" can only be settled if the fighters actually fight. Contracts, money deals, organisational pride – whatever is hindering such an event is lamentable. Fight fans want to see fights on display, not any one organisation's ego. Until that happens, I'm confident in saying Harrison is the PFL GOAT, and her reign will surely continue after tonight. Don't blink as she proves just how effective Judo can be in Mixed Martial Arts. To show you just how dominant she is, odds currently put her at -5000. 
Another reason the PFL event is so highly anticipated in London is the Featherweight Semifinal between the UK's Brendan Loughnane 23-4 (a relative of his tells me the family's ancestry is Norwegian) and America's Chris Wade 22-7. There have been heated exchanges between the two ahead of the bout, which always serves to tighten expectations but risks maximising the disappointment should they not deliver an epic showdown. Wade used to fight in the UFC. After winning his first three bouts he found himself in trouble and lost the following two fights. One of these fights was against Islam Makhachev who faces the reigning champ Charles Oliveria for the UFC Lightweight title. In other words, he has faced truly challenging opponents. Last year he made it to the PFL finals, just missing the gold and prize money by a decision loss. He is seasoned, has been in danger and knows what it is like to go all the way to the finals. Loughnane, however, is also a veteran and fights for a home audience. The odds favour Wade, but I'll go with the underdog by decision. 
Also, keep an eye on undefeated Swedish Ali Taleb (7-0) who faces UK's own Darius Mafi (also undefeated, 3-0) in a Bantamweight fight.
Full card, information, and where to view it are available here. 
UFC 278
The three last fights of this weekend's UFC card are well-worth watching for those who can. Jose Aldo, once the undisputed king of the Bantamweight's, only to be snubbed by a young, smooth-talking, Irishman within seconds. He has since worked his way back to a place where he vows to challenge for the title, but the road has been rocky. He faces Merab Dvalishvili (14-4) in the octagon, just a week after the magnificent fight of Vera vs Cruz. Aldo is a veteran and deserves respect for his accomplishments. I think his days are over, while Merab is on the rise. I've just checked the odds and they agree with me here, so don't blame me if Aldo does the impossible. If you do bet against the odds and he pulls it off, I tip my hat off to you in advance. 
What the UFC themselves have termed "the most handsome fight in UFC history" where Paulo Costa takes on returning veteran Luke Rockhold may have the aesthetes hooked, but for fight fans there are real reasons to think the match-up is ideal. Costa comes off two losses, but is #6 ranked. Rockhold hasn't fought since 2019 when he felt the force of Jan Blachowicz's "Legendary Polish Power." Before that he lost to Yoel Romero, whom Costa has a win over. Both athletes are skilled jiujiteiro's and Rockhold has held the Middleweight title before. His days are also over, as father time eventually wins out. Costa has the odds on his side, and with this win can carry a W over to a future bout, perhaps challenging Vettori again, or indeed the winner of Hermansson vs Brunson. 
The main event brings the rematch of Usman vs Edwards. Some people speak of Usman as the Welterweight GOAT. The last time I saw Edwards was at UFC London. He seemed confident he would take the win. He spoke of himself as a matured, more experienced fighter. He is confident about his wrestling and thinks this is the perfect time to take on the GOAT. He is not convinced by that epithet for Usman. Bisping agrees and thinks Edwards can win. Bookmakers don't, giving Usman a -340 advantage. My prediction is that Usman wins, and provided Khamzat beats Nate in September, we would be in for a huge match-up with Khamzat challenging Usman for the title. Two world-class wrestlers. That would be a true joy. Best of luck Edwards, but don't rob us of Usman v Chimaev. 
Find info on how to watch on PPV here.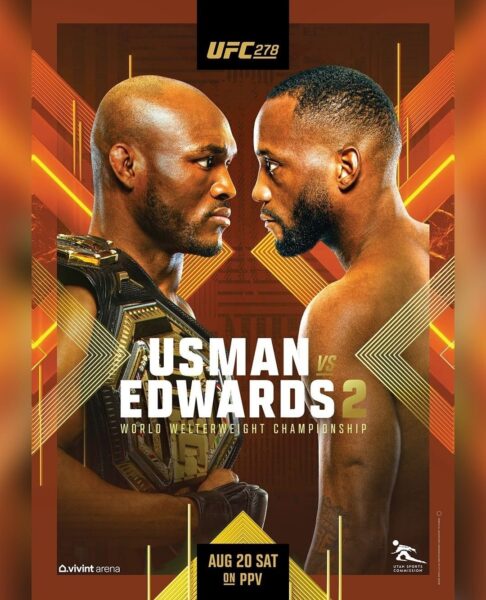 USYK VS JOSHUA
Marked as the "Perfect Storm," Usyk vs Joshua ended with Usyk claiming the titles held by Joshua. Walking into my local Belgravia pub shortly after the bout, a fellow enthusiast of boxing and Pale Ale asked me why anybody would still believe in Joshua's skill set. Good question, I asked. I do think he has been overrated, which is not to say he belongs amongst the top ranks of the living heavyweight boxers. But would he defeat Fury? Never. Could he stand with Deontay Wilder? Questionable. And given his status, would he make mince meat of Sweden's own Otto Wallin? Nope. It seems, apart from his family and friends, the only one who believes in AJ wholeheartedly is the one who stands to make a profit from his success: Eddie Hearn. With admiring eyes, Hearns gazes at his fighter who has come to claim back what was rightfully his: the WBA, IBF, WBO, and IBO belts. Experts say Joshua has to move, aim for the body, and stop Usyk early. It would perhaps be the perfect storm many look for in the drought of summer, but I don't see it happening. Realists (some call them the bookmakers) have Usyk ahead -200. I'm taking Usyk, and I think he stops AJ. Usyk is faster and better in the defence. It would be a statement if he stopped AJ. Round 7. Don't @ me. 
Available on DAZN.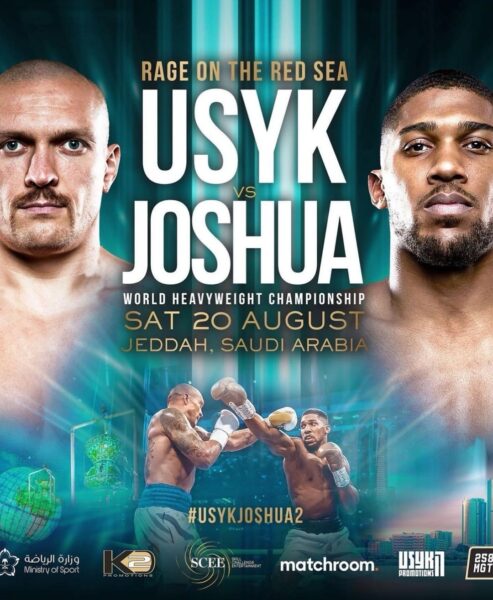 BKFC 27
Finally, and for many the cherry on the top of an already spectacular sundae, we have the return of licensed bare-knuckle prize fighting to the UK. BKFC is hosting an event at the OVO Arena, Wembley. Mike Perry faces Michael "Venom" Page where the sports modern roots can be traced to. Prizefighting took place in the 18th and 19th centuries in England, which is chronicled in the new film "Prizefighter" featuring Russell Crowe and Big Joe Egan. This is a historic event that true fight fans will not want to miss, although viewers are wanted that the lack of gloves can make it all the bloodier, even though, ironically for the uninitiated, the fights are safer as the damage done is less. You can't punch as hard without gloves. Hands brake, heads don't. At least not as easily. Tune in and watch history unfold. How to watch.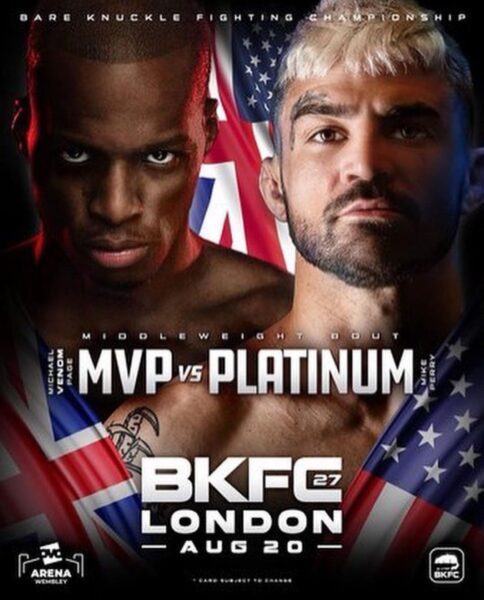 For fight fans around the world, this is very nearly the perfect weekend. 
Lyssna på det senaste avsnittet av Fighterpodden!